BVOP Certified Agile Director is a title created by BVOP.org, Business Value-Oriented Principles Ltd which is aimed at the top management of Agile-oriented organizations.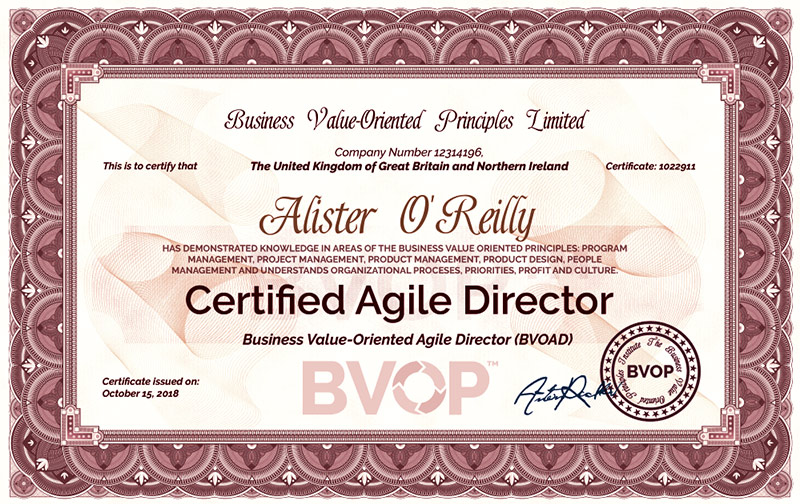 The use of Agile approaches and methods of work in modern business and especially software development often includes the use of Scrum, Kanban, XP and other methods of work.
Although these practices are contemporary and modern, teams experience difficulties with business stakeholders and often create problems and irregularities in the project.
BVOP™ Certified Agile Director is a role that should control the processes and problems of the Scrum and Agile teams and to control the situation, business, and customers.
The creators of The "BVOP™ Ultimate Guide" (TM) have a specially prepared and written manual called "BVOP™ Agile Guide" which contains all the information and literature that candidates for this exam must learn to obtain their diploma.
Agile Coach is not an Agile Director
Some experts see similarities with the title of Agile Coach, but this is not true, because Agile Coach is the equivalent of Scrum Master and these roles are not part of the top management of organizations and often do not have a word on business decisions and can not intervene in serious disputes. or create rules and regulations.
Other certification programs of the organization
BVOP has a whole set of modern Agile certification programs:
BVOP Senior Scrum Master, BVOSM
Full title: BVOP Senior Scrum Master, Business Value-Oriented Scrum Master (BVOSM)
BVOP Certified Project Manager, BVOPM
Full title: BVOP Certified Project Manager, Business Value-Oriented Project Manager (BVOPM)
BVOP Certified Product Manager, BVOPDM
Full title: BVOP Certified Product Manager, Business Value-Oriented Product Manager (BVOPDM)
BVOP Certified Program Director, BVOPGM
Full title: BVOP Certified Program Director, Business Value-Oriented Program Director (BVOPDM)
BVOP Certified Product Owner, BVOPO
Full title: BVOP Certified Product Owner, Business Value-Oriented Product Owner (BVOPDM)
BVOP Certified Human Resources Manager, BVOPPM
Full title: BVOP Certified Human Resources Manager, Business Value-Oriented People Manager (BVOPDM)
Information about BVOP.org, Business Value-Oriented Principles Ltd
Locations
United States
Full address: 766 5th Ave, New York, NY 10019, USA
Phone number: +16465154470
Web: BVOP.org
United Kingdom
Full address: 148 High St, Scunthorpe DN15 6EN
Web: BVOP.org
Contacts with BVOP: